Why "Mediterranean" and why "Bubbles"?
The delicious food, the sacredness given to the environment and eco-sustainability, the possibility to let yourself go with joy to unique experiences, with the spirit of adventure, gave us the inspiration for this name, Mediterranean Bubbles. We have the Mediterranean in our DNA, and we madly love the sea, so the word "Mediterranean" was a must. In thinking about how to convey the special sensations and sublime atmosphere of these lands, then, we came to the second perfect term to describe our travel boutique: "bubbles", literally bubbles. The reason is simple: that's how we feel, euphoric, bubbly, curious and dynamic.
The beauty and happiness given by our job make us full of life, we love to go forward. We have a synergistic relationship with the Mediterranean: the possibility of always having new stimuli, and the privilege of being able to move in unison with a context like the Spanish one, that is relaxed, peaceful, full of love and emotions, is an achievement that we want to continue to share as much as possible with others.
With us, you will get the most out of Spain – the country we love – bringing to life the
precious moments

that only holidays in Spain can deliver.
In addition to tours and sightseeing itineraries, we give you travel tips and take care of finding the perfect lodging to recharge between activities: a luxury villa, a hotel, a farmhouse, or another comfortable nook that knows how to make you feel at home, away from home.  Our heart is bright and our characters are warm. It may sound like a cliché, but we are also sun lovers, and in general our natural habitat is really that of the Mediterranean microcosm: it is a philosophy of life, to be happy! 
Our mission and the Mediterranean style
Our mission is to guide you in the discovery of your new experience in Spain: we want you to get to know the true essence of Spanish cities, of our barren places and our green oasis, of those beaches with their unmissable sunsets, of that clear and always different starry sky.
The Mediterranean lifestyle is based on a few simple elements that we believe represent the ideal pillars for an irreplaceable vacation, namely we adopt: slow rhythms as a metronome, culture and history as compasses, sustainability and the enhancement of environmental heritage as a hallmark of peace, and good food as an emblem of conviviality.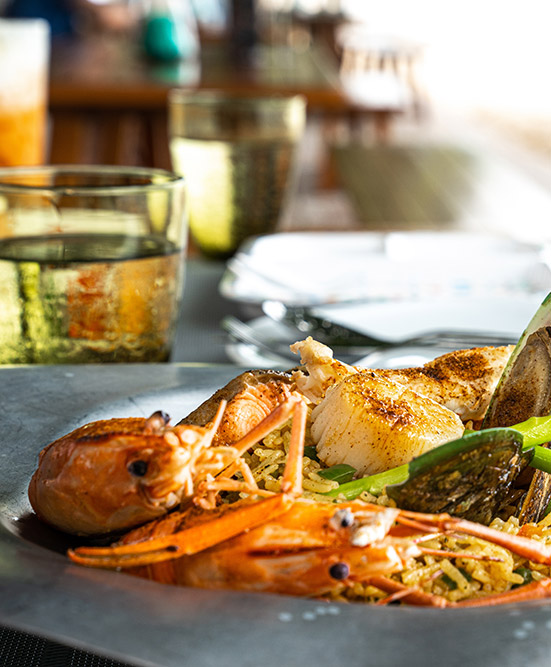 Try for yourself the
Elixir

of Long Life
We are a close-knit team, and we chose to "live like this, with the sun on our forehead" – as the famous song by Claudio Villa says – about a decade ago, when, after yet another wonderful trip, we realized that the elixir of long life exists: it is the Mediterranean style!
We want to spoil you, because you are our guest, and we want you to know the local culture without veils, but with all the comforts. After all, you are on vacation! In addition to being a team of enthusiastic, creative and empathetic people, although at times the euphoria makes us similar to sparkling bubbles, we are also "Mediterranean," we like to enjoy things calmly, in company, without stress: we know the bright spots in our cultural canvas – like the food; – and we want to share them with you.