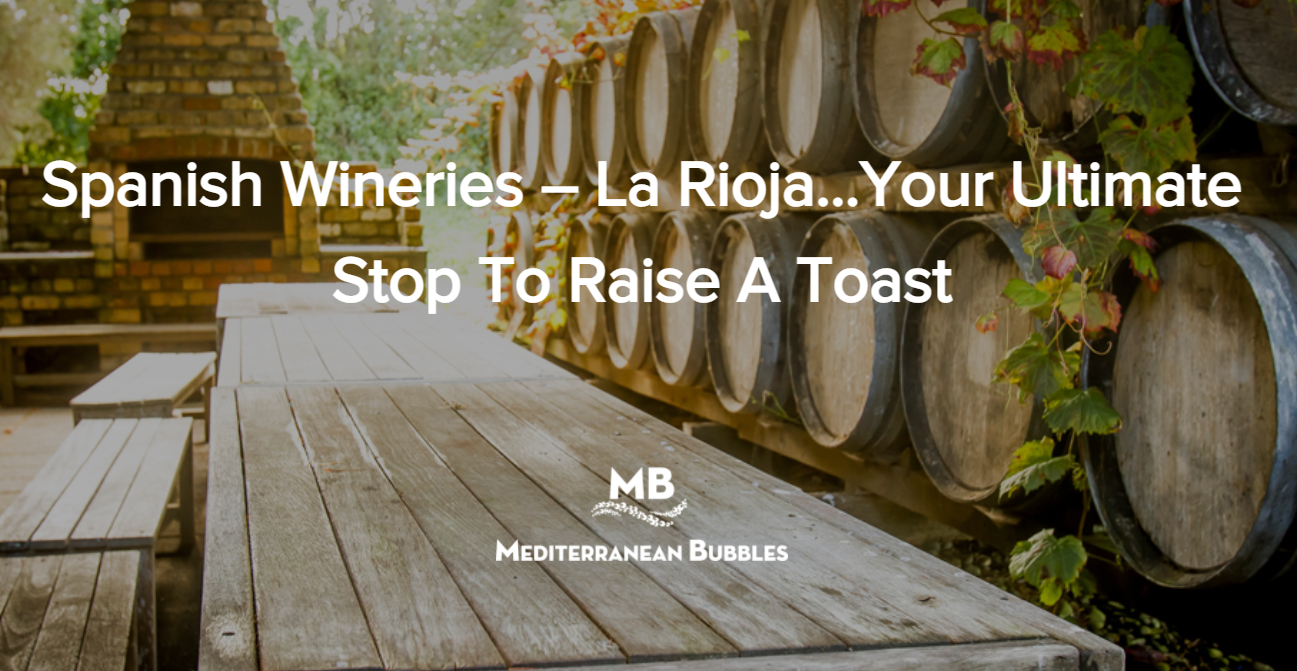 Rioja's vines are mainly red: Grenache, Graciano, Mazuelo, Tempranillo and Viura grapes are the beating heart of this region.
If you are ready for a delicious experience, and want to learn the speciality wines of this beautiful Spanish region, let yourself be inspired: you have come to the right place.
La Rioja…the land of vineyards
Allow us to tell you a little bit about the history of this territory. Rioja is a region located in the northern part of Spain, and it is bordered by a long stretch of the Ebro River. Rioja also enjoys the proximity of the slopes of the Sierra de La Demanda, and of the Sierra de Cantabria, mountain ranges that surround this area, and protect it from the Atlantic influences. The climate can be cooler compared with other areas, but thanks to the humidity in which vines are immersed, that Rioja's red wines are exquisite.
Rioja wines are famous all over the world for being extraordinary, made possible by the geographical characteristics of the territory. While the natural territorial configuration certainly contributes to the goodness of Rioja's wines, it is also the core of an incomparable production process. Generally the wines produced here are subjected to a long processing period, in which they are allowed to calmly rest in their casks.
Historically, it was this patience, and this placid waiting which gave life to amazing wines such as La Rioja Alta.
What makes La Rioja wines so special?
While you are sipping and tasting, you should know this wine is usually aged in casks made of oak, an American wood which gives spicy and sweet notes to its glasses. This wine is nevertheless an autochthonous wine, traditional, it is a Gran Reserva, which blends Tempranillo, Mazuelo, and Viura grapes, and that many even choose to collect due to its intrinsic value.
On average, Rioja wines are full bodied and mature. They are partially aged in cask, and partially in bottle, from a minimum of three years, to a maximum of five, depending whether it's a Gran Reserva or a Reserva. Then we have the adult wines, the ones classified as Crianza, where the time lapse between harvesting and the end of the production process corresponds to about one year.
Lastly there are young wines, Jóvenes – wines famous for their interesting taste, as well as being capable of particular variations.
The range of Rioja's wines is therefore very vast and versatile, and it is indisputable that local production is well balanced among morphologically varied soils, peculiar processing techniques, and different levels of ripeness. As a result, Rioja always produces excellent wines, whether it is a tasty red, a delicate white, or a pleasing rose.
A prime example of the calibre of the Rioja wine is Joven Tempranillo, a red wine which leaves aside every gustatory superstructure, and releases the authentic taste of the bunches of grapes at its base.
Trasnocho, a cuvée produced in the northernmost part of the Rioja region, Rioja Alavesa, is a particular special wine. We are always in the ambit of reds, and we are in front of a dry extracted taste, clean, low density in the way of the wines of this subregional part of Rioja.
The region of Rioja is divided into three subregions: Rioja Alavesa to the north, Rioja Alta just below that, and Rioja Baja on the south-eastern side of the region, mirroring the region of Rioja itself.
Wines from Rioja Alavesa, such as Trasnocho, are wines produced in soils poorer in nutrients when compared to the other areas. They therefore have a more balanced taste, and a less defined body, which leaves room for interpretation, and allows for them to be matched to various culinary delights.
Wines from Rioja Alta, are located at a higher altitude so the soil, is richer in iron and clay, contributing to the reason their wines have an elegant and sumptuous taste.
Lastly, Rioja Baja wines benefit more from the vicinity of the Ebro River, and they are excellent when blended with other varieties, or appreciated alone. They are fruity wines with exotic tendencies. A must try wine from this region is Palacios-Remondo, a wine created by means of carbonic maceration, giving a fresh and appetizing taste.
These are just some of the Rioja region wines you should not miss. The beautiful views of vineyards, the curious local history, the international influence and the strict tradition sewn to the production of these wines are promising premises for a unique tour: a good glass of wine is always a harbinger of good adventures, rewarding and fun, don't you think?
Time to raise a toast
Ready to taste these amazing wines, and discover their history by participating in one of the gastronomic-cultural tours with the local people and winemakers of La Rioja?