Time to fall in love all over again in Spain's five most romantic places.
Travelling with those we love is one of the most beautiful experiences you can have. But what are the five most romantic places in Spain? If you're ready to take off with the one you love on a love-filled trip, read below.
The real Southern Spain: Jerez de la Frontera
Jerez de la Frontera, located in Southern Spain, more specifically in the Andalusian lands, is one of the largest and most authentic Spanish cities. If you are looking for a place that offers multiple romantic adventures, we recommend you take this city into consideration.
In Jerez de la Frontera you can fill the album of your love story with funny anecdotes, and spectacular photos to look back on. In addition to important monuments that bear witness to local history, you can also take part in scenic excursions on horseback, or on foot, retracing the route that many historical figures have taken here.
In addition, it is here that every year in the springtime the famous city festival, the "Festival de Jerez", is held. This local event that is very popular with Andalusians, and tourists alike sees the city come alive with sensational music and dancing. Flamenco shows are a feast for the eyes as well as for the spirit: they bring joy and happiness.
Of course, you can go one dance further with this traditional dance of Spain, and take some lessons to dance side by side with your partner: the sparkle and laughter are guaranteed.
And after flamenco! After flamenco sit down, and taste the typical food and drinks of Jerez de la Frontera: here the food is often self-produced by the inhabitants of the city, and therefore the taste of the dishes and wines is authentic and appetizing.
In this regard we suggest you taste the sherry, a fortified wine with a fascinating history. In fact, sources tell the birth of viticulture in this area of Spain is attributed to the action of Phoenicians, who founded the city of Cadiz. The history of the many types of sherry is particularly intriguing as it has seen the action of many people and cultures over the centuries. Cádiz is therefore just the beginning of the charm of this delicious wine that you will be able to sip here.
Cádiz: charming and peaceful
Tours in SpainEptatur? Solut aut dis aut alitatis esti re, volorum nosae. Itat.Solupta turio. Sequam fuga. Vid erumquid ut ommos ant aspiti antem harum que et parciisti re, sam nulpa quaturibus, ute nat moluptatem volutem is net labo. Borio. Et re
nes aut voloris quide prest volo esequam, nus voluptas doluptatis mod et odictassit omnim voloris esseque volum que endit andae. Nam quis cus reniati dendunte
cone poribusti quunt quam, vero everferum nes magnam quaecta sperovitem rehenda menistem et ari doluptur sim autatin pariatiatest.
Tours in SpainEptatur? Solut aut dis aut alitatis esti re, volorum nosae. Itat.Solupta
Magical and authentic: Granada
Located at the foot of the Sierra Nevada mountain range, it's easy to understand the reasons for Granada being one of Spain's most beloved cities.
Visiting the Alhambra, for example, is always a good idea. In fact, this impressive fortified complex is made up of majestic royal palaces, and features a historically relevant type of architecture.
Climbing the Torre de la Vela Watchtower and admiring Granada and the Sierra Nevada mountain ranges from above is another perfect activity for couples, and if you're not married yet, it could be the perfect time to propose. In fact, according to local folklore, single women who ring the bell of the Watchtower will be married by the end of the year!
Stopping by the Arab Baths in Granada is another great idea. In addition to the massages and other treatments that can be had there, these baths are a unique historical relic. The origin is in fact Moorish, and even visually you can appreciate a place that is undoubtedly special. Traditionally, it is here that you could achieve purity of mind, and it is always here that in the time of the Romans, they met to chat and share time together.
San Juan de Gaztelugatzxe: rugged, wild, unspoiled
Less than an hour's drive from Bilbao is Gaztelugatxe, a small island with a rugged, wild, unspoiled flavor located along the Bay of Biscay. Gaztelugatxe, perhaps due to its proximity to Bilbao, is one of Spain's least known, and most underrated destinations.
At a point of Spain where sea, city and mountains meet: if on one side we have the Cantabrian Sea to surround Gaztelugatxe, on the other side we find Mount Burgoa, part of the Biosphere Reserve of Urdaibai. You can take part in beach or nature excursions, depending on what you prefer.
Also in this Spanish gem, you'll find only one building, the Hermitage of San Juan de Gaztelugatxe. This hermitage dates back to the tenth century, and to reach it from the mainland you'll have to walk along a charming, but winding stone bridge. Once you get to the top, let yourself be charmed by the urban legends related to this place. For example, it is said that in order to ward off evil spirits, the bell of the hermitage was rung with a certain frequency: only in this way you were sure to be safe.
P.s.: If you are a fan of "Game of Thrones", the famous television series, you might recognize Gaztelugatxe, because it is here that the scenes of Dragonstone Castle were filmed. Either way, it's a unique and memorable place not to be missed.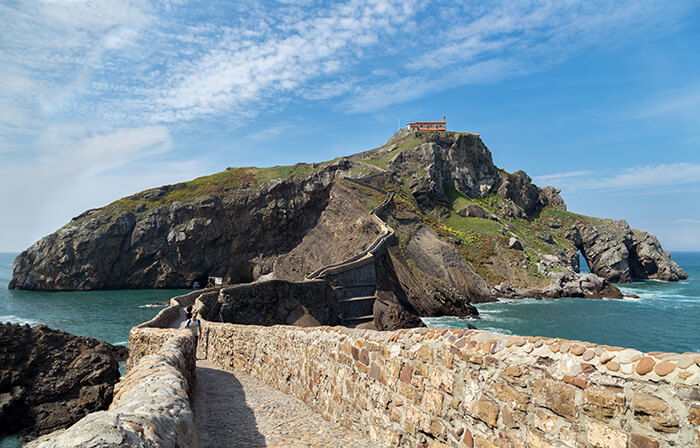 Ibiza: the vibrant Balearic island
Famous for its nightlife, vibrancy and luxury, Ibiza is an ideal destination for those lovers looking for a place of fun and relaxation.
In addition to the beaches teeming with people, and the magnificent natural beauty of this place, Ibiza is actually a city to be discovered. If you have a few days, then, you may decide to divide between sea, nightlife and experiences.
Ibiza is a very modern city in terms of activities and clubs, but it also hides a small ancient jewel: the city of Eivissa. The old town of Eivissa is special above all because it represents the most important historical ring of Ibiza, for its many seafood restaurants, for the nice cafes and bars, for its history, and for the wonderful architecture that characterizes it. Why not spend a different afternoon meandering through the cobbled streets typical of the past? This area has been declared a UNESCO World Heritage Site, which tells you everything you need to know.
Finally, we also recommend walking barefoot along Cala d'Hort, a shy sandy beach nestled between the cliffs, and overlooking the mystical rock of Es Vedrà. Between beautiful stories about the history of this mysterious island, time will fly and it will be time to admire the sunset from the cliffs, with a drink and a camera in your hands. And if you don't feel like going dancing, know that Ibiza offers some truly unique nights of romance: walking calmly under the starry sky, in the moonlight, going to the nearby beautiful Cala Conta is simply fantastic.
Ready to book?
Spain can be the perfect setting to declare your love to your loved one. Our Travel Experts are always on hand to help you plan your ideal romantic getaway in Spain.