Solo travel in Spain? No problem at all, we got you covered!
We will take you to the most enchanting places in Spain, where everything is bubbling with life. So, what are you waiting for?
Madrid, Granada and Ibiza are the most seducing
cities in Spain for single hearts! 
Goya-themed Madrid
Day One.
This tour is for solo travellers, and it starts from one of the most lively and bubbly cities in Spain: Madrid. We'll start with a Goya-themed guided tour. Francisco Goya, a leading artist of modern art, was born in Spain, in Aragon, and spent some significant years in Madrid. You will discover his history and works at the Prado Museum, and our guide will tell you a few tidbits about his achievements: Goya was an all-round artist, both on canvas and in life. In the evening, you'll head out to experience the city's wild nightlife.
Tapas themed Madrid
Day Two.
Madrid is so beautiful and full of possibilities that you need more than one day to experience it. On your second day, you will live like a local: you will discover the pleasure of travelling in an authentic way, get to know the local culture and traditions, and discover the lesser-known corners of the city.
You will also taste tapas, a typical Spanish finger food often served as a single dish. Your senses will be aroused by the tastiness of these authentic snacks, and between bites and drinks you can decide to socialise with others or immerse yourself completely in this carnival of unique and exquisite flavours.
Madrid culinary theme
Day Three.
Third and final day in beautiful Madrid. Today you will learn how to cook some typical dishes of the capital with the help of a professional chef, who will guide you through a lesson full of fun and taste. In the afternoon, you'll have some free time at your disposal: you can take another tour of Madrid and revisit your favourite spots. In the evening, you will leave for Granada.
Granada-Alhambra
Day Four.
You will be climbing to the top of the hill that houses the Alhambra, the first destination of our stay in Granada, Andalusia. This reddish fortress – in keeping with the meaning of its original name, 'al-qala' al-hamra', literally 'red castle' – is interspersed with green lungs and beautiful water features. The Alhambra is a real treat for the eyes and contains a dynamic and interesting history. From the top of 'La Sabika' you can also admire the emblem of peaceful coexistence between man and nature: from orchards to mountains, from gardens to swimming pools, from exotic flowers to protected fauna, the biodiversity here is truly precious. In the afternoon and evening you will have free time to explore the surroundings. We'll be back tomorrow for a really tasty surprise.
Granada tapas tasting
Day Five.
We're in Spain, a land rich in food and dishes that tantalize the palate just thinking about them. Today, you will eat some more delicious tapas! Tapas are one of Spain's most distinctive dishes, and one of the cultural pillars of the Mediterranean spirit: tasty and versatile, they encourage conversation and flavour at the same time.
In the city, you will visit places that exude opulence and wealth, such as the Monastery of Santa Isabel, a true culmination of opulence. You'll stroll through the city's different neighbourhoods, such as the Albayzin, a UNESCO World Heritage Site for its urban and architectural design. You will relax in the Arab Bañuelos, places of relaxation and social gathering, once the amphitheatre of intense philosophical, historical and metaphysical dialogues.
From Granada to Almuñecar
Day Six.
Your sixth and last day, you will enjoy one of the most sparkling seaside resorts reachable by car from Granada: you will visit Almuñecar to see its coolest beaches. To end your tour on a high note, you'll get there by road, driving, with frequent stops along the way to capture the last glimpses of this magical land.
Once in Almuñecar, you can choose to visit the town and its bars and restaurants, or enjoy a few hours on the beach. In this respect, we recommend Puerta del Mar, one of the most popular and frequented beaches in Spain, and whose promenade is very popular.
Dalt Villa (Ibiza)
Day Seven.
You are now in the eastern part of the island, in a town surrounded by beaches, with an undeniable charm. Dalt Villa (or Vila or Eivissa) is the oldest wing of the island of Ibiza, and is characterised by its narrow white streets, and a history rich in influences from many peoples. This was once the island's defensive stronghold, and some traces of it remain today: let yourself be enchanted, and put on comfortable shoes for this magnificent first morning.
In the afternoon, it's beach time! We're going to Ushuaia,  one of the best beach clubs on the island. You'll be able to sip delicious drinks, soak up the sun's rays, and enjoy the sea until sunset. The beaches here are white, and blend perfectly with the colours of the sea, sky and sun at all hours.
Formentera
Day Nine.
Who has never heard of Formentera? This island, once chosen as a granary and wheat store by the Romans due to its geophysical conformation, is beautiful. A private luxury boat will take you to this unspoilt stretch of sea and sand. Here you can enjoy the privilege of being on one of the least touristy, and most chic of the Balearic Islands, and you'll find some excellent restaurants to eat and drink.
Ibiza
Day Ten.
Back to Ibiza! We offer you one last day in the heart of the Balearic Islands. Breathtaking landscapes, culinary delights, exclusive beach clubs overlooking the sea, and the always appreciated relaxation.
Enjoy the crystal-clear waters, the beaches, the palm trees, the drinks, the warmth and serenity, all crowned by an ad hoc wellness experience, you can only find in the Balearic Islands.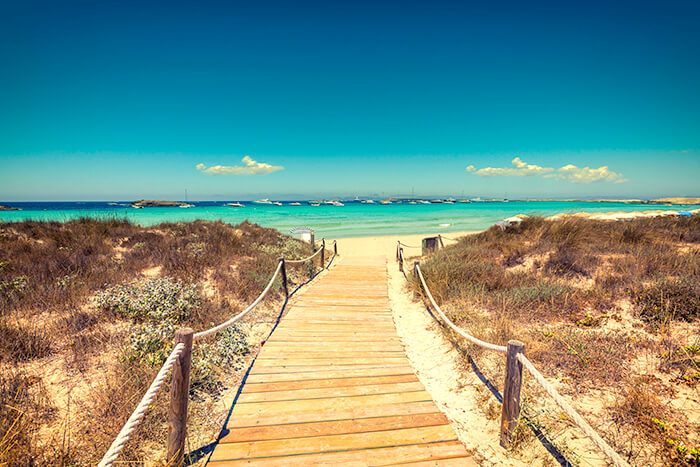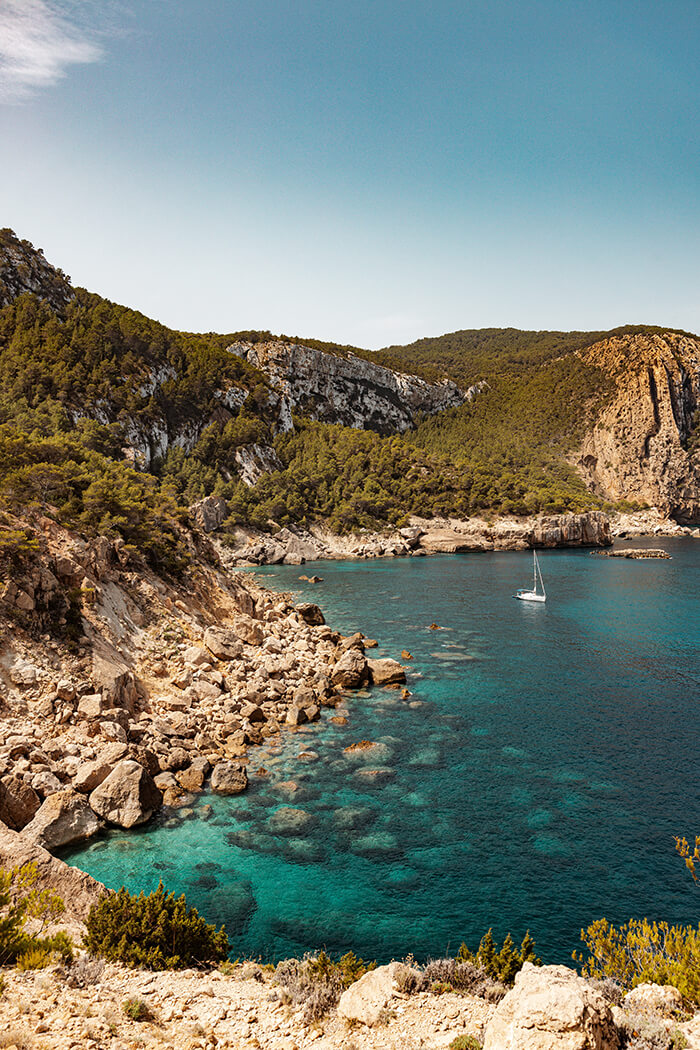 Travel to Spain!
Single or not single, self loving is the most important form of love. In this tour, you will experience the most buzzing spots of Spain where there will be many chances for a good laugh.